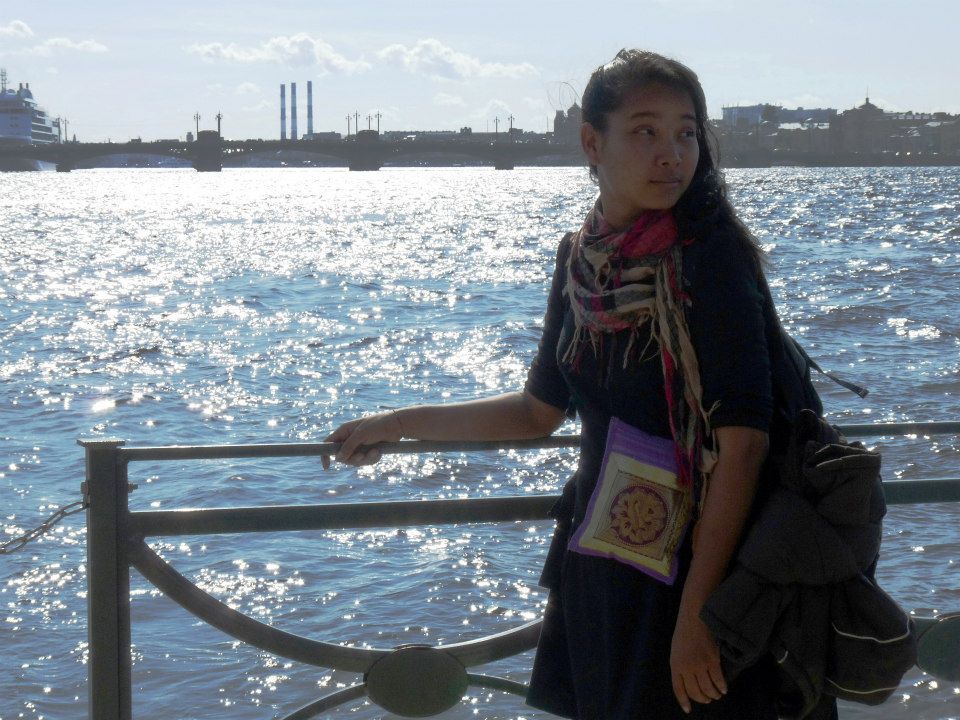 "Life is short, break the rules, forgive quickly, kiss slowly, love truly, laugh uncontrollably, and never regret anything that made you smile. Twenty years from now you will be more disappointed by the things you didn't do than by the ones you did. So throw off the bowlines. Sail away from the safe harbor. Catch the trade winds in your sails. Explore. Dream. Discover."
Here's a video of the Tedx speech I gave back in 2011.

Phnom Penh International Airport interviewed me and has published this video on their website. It's about my travelling experiences.

Kounila Keo is a 26-year-old blogger and media consultant. Currently she is based out of Singapore to do her master's degree in Public Policy at Lee Kuan Yew School of Public Policy/National University of Singapore.
She's blogged since 2007, and her blog posts made it to the news several times. During her sophomore year, Kounila decided to work as a weekend reporter. Since 2008, she's also worked as a reporter for various foreign news publication: Agence France Presse, Los Angeles Times, IRIN UN News Agency, the Independent UK, CSMonitor, the Phnom Penh Post, Global Voices Online, and more. Some of her work is documented here in another blog.
She's also been training social media and giving speeches to university students, artists, professionals inside and outside Cambodia since 2008 such as students from Royal University of Phnom Penh in 2008, Sasa Bassac Photographers in 2009, 20 YRDP youths in 2012, and MTV Exit youths in several provinces in 2012. In October 2011, she was one of the top 10 UNESCO bloggers selected to cover the Paris UNESCO Youth Forum (after selected among 500 bloggers from all over the world). She was invited to be a social media trainer for Seliger Youth Forum in Russia in 2012 and was blogger in chief for Seliger Youth Forum 2013.
Her volunteer work includes helping found a youth collective, Kon Khmer Koun Khmer or Khmer Films Khmer Generations, that has since 2009, worked on and produced short films as well as organized films events in Cambodia such as Golden Rewakening Exhibition at Chinese House (2009). Kounila has been one of the lead organizers for FilmCampKH 2012 and 2013 which also includes Chaktomouk Short Film Contest. She co-organized Khmer Talks 2012. Kounila was one of the lead bloggers for BlogFestAsia 2012 in which 100 local participants and 80 bloggers from 10 countries attended sessions for 4 days. Kounila was one of the speakers of TEDXPhnomPenh 2011. She was selected as a blogger from Cambodia to attend a Blog Festival in Bali/Indonesia in 2011, selected by the US Embassy in Cambodia as the blogger from Cambodia to attend ON|OFF Blog Exchange in Jakarta in 2011, and BlogFest in Solo/Indonesia in 2013.
Her passion is social media, youth empowerment, writing, and travelling. Kounila has travelled to South America, Africa, Europe, the Middle East, and Asia to cover events as a blogger and a journalist since 2009. Follow her on Facebook, Twitter, and her blueladyblog and here.
My contact
I'm on:
Or Google me. Thank you very much.