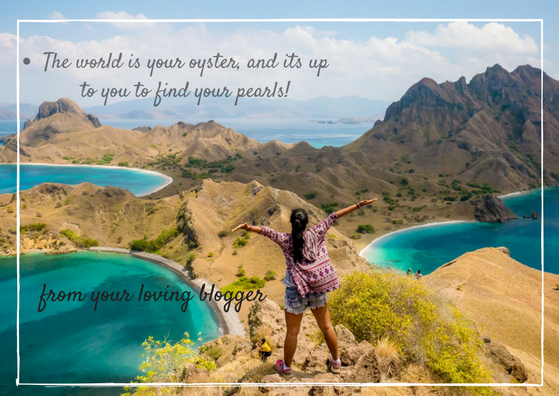 "Life is short, break the rules, forgive quickly, kiss slowly, love truly, laugh uncontrollably, and never regret anything that made you smile. Twenty years from now you will be more disappointed by the things you didn't do than by the ones you did. So throw off the bowlines. Sail away from the safe harbor. Catch the trade winds in your sails. Explore. Dream. Discover."
Here's a video of the Tedx speech I gave back in 2011.

My name is Kounila Keo, and my readers call me @Kounila. And, the online world knows me as #blueladyblog
I am a co-founder of a communications agency, called Mekhala Radiant Communications CO LTD, which specializes in integrated marketing strategies, public relations, digital campaigns, and market research. With a background in local and international journalism, international development, and public policy,  I have collaborated with international and local companies, government agencies, and non-government organizations to develop long-term integrated communications strategies across multiple countries. These campaigns aimed to take on various social issues, such as women and youth empowerment, civic engagement, maternity protection, early childhood development, environmental protection, and freedom of expression. 
I hold a Bachelor's degree in Media and Communications and a Master's degree in Public Policy from the Lee Kuan Yew School of Public Policy, NUS Singapore (2016).  I have joined communications and journalism fellowships in Asia, Africa, Europe, South America, and the USA. I was featured inForbes 30 Under 30 in 2017 in the media, advertising, and marketing category. In addition to my professional achievements, I have also delivered lectures at several universities, including MMC (Myanmar), LKYSPP/NUS (Singapore), NUM International College (Cambodia), and Cambodia Academy of Digital Technology (Cambodia).
Besides the skills described above, for a long period (between 2006 and 2017), I studied and practiced media and communication, news writing, multimedia production (video, audio, and photography), mass communication, public relations, and advertising. As fate would have it, I became a freelance reporter at the age of 18m and then for Agence France Presse and a freelance writer for the Phnom Penh Post, one of the most-read English news publications in Phnom Penh. I also switched across multiple international media publications: Agence France Presse, Los Angeles Times, IRIN UN News Agency, the Independent UK, CSMonitor, the Phnom Penh Post, Asia360s (Magazine), Global Voices Online, and more. I intensively trained on social media and gave speeches to, university students, artists, and professionals in Cambodia until I got a chance in October 2011 to be one of the 10 top UNESCO bloggers selected from a pool of nearly 600 applicants to cover the Paris UNESCO Youth Forum (2011) and chosen to be a social media trainer for Seliger Youth Forum in Russia in 2012 and was later blogger in chief for the same conference in 2013. With my networks, I was entrusted with the responsiblity to build a team, 3 from India, one from Mexico, one from Vietnam, and one from Nepal to cover the conference in Russia.
Social Initiatives and Events 
In 2009, I collaborated with a team to co-found a youth-oriented film collective called Kon Khmer Koun Khmer, also known as Khmer Films Khmer Generations. Since its inception, the collective has produced numerous short films and organized highly-publicized film events, exhibitions, an annual film camp, and the Chaktomouk Film Contest. Over time, both Kon Khmer Koun Khmer and the Chaktomouk Film Contest have evolved into the Sunflower Film Alliance and Chaktomouk Film Festival, which are now independently operated by dedicated volunteers.
Additionally, I have organized several digital community events. I served as the lead organizer for BlogFestAsia 2012, which attracted 200 participants, including 80 international attendees from 10 different countries. As an inaugural speaker at TEDXPhnomPenh 2011, I later contributed to organizing the event. My passions include social media, youth empowerment, writing, traveling, and policy analysis. Since 2009, I have journeyed to South America, Africa, Europe, the Middle East, and Asia to cover events as a blogger and journalist.
In my spare time, I enjoy writing about my experiences, traveling to destinations outside of Cambodia, and reviewing restaurants, hotels, and intriguing locations for my blog,
When in Phnom Penh
. This passion project was created to inspire fellow bloggers and writers to share their thoughts about the places, events, and social gatherings they encounter. If you are interested in contributing, please feel free to reach out to me!
NOW!
Currently, I'm running a boutique communications agency full-time, and my passion is to help my clients be successful in campaigns they run, be it social or commercial!
I can help you to:
Connect your brand and create engagement with local bloggers and online influencers in Cambodia and the Southeast Asian region
Plan a social media, community, and content strategy
Plan and organize your Corporate Social Responsibility programs
Organize writing/media relations/branding workshops
Create content (blog posts, articles)
help your company/organization with your mobile/web design, mobile app design (I have a team to do it)
Be your writing coach, get your ideas into words and help edit your articles/books (Khmer & English)
Be your mentor on setting up a business in Cambodia
Do product review and sponsored posts on wheninphnompenh and @Kounila (Twitter/Instagram), especially on travel industry (hotels, tours, airlines, spas), beauty & fashion and technology & gadgets
Support your collaboration and partnership in writing, publishing, community development, technology
Organize social activities related to education & women specific topics especially on women in technology
Do public speaking, hold seminars, and conferences around self-development, women empowerment, digital security, and digital publishing
Phnom Penh International Airport interviewed me and published this video on their website.

Another contact
A bit more about me
I'm the fourth child of the five siblings and the only one that's fortunate enough to have finished a Master's degree (fully funded). I'm a Li Ka Shing scholar. Can't thank my siblings enough for taking care of my parents when I was away for two years.
Education 
I'm on:
Or Google me. Thank you very much.