When I first started reading newspapers for the first time in early 2000, I noticed lots of news reports of crimes. Generally, they took place in remote areas of rural Cambodia where basic things like electricity, running water, and streetlights were still luxuries. Where after 5pm, all the cats are grey.
I myself have travelled to remote areas for some reporting and academic research, and I definitely can sympathize with people living without enough electricity and other basic materials. In 2010, I travelled to Chhnok Tru, a floating village in Kampong Chhnang to do a short video documentary there several times. Kampong Chhnang is only a few hours away from Phnom Penh but faces quite a number of challenges with poverty, water & sanitation, farming, fishing, ect…
Of course, not having enough electricity is another story, but the focus of this blog post is about the trouble which has been bothering villagers for years. For those who have travelled to Cambodia, the fair image of Cambodia would be the land of smiling people. Undeniably, there are quite a few problems that need to be solved, such as this. Those reports highlighted rape, murder, robbery, and violence which could have been avoided.
How many lives could we have saved if much of the streets we have were well equipped with streetlights? Well, that is a big dream to realize but now this organization is planning to install some streetlights in 3 villages of Kampong Chhnang (Kraing Learve (Health Center), Toek Laak and Trapaing Kravann). But, the good thing is that villagers in Kampong Chhnang will not have to complain about having to pay electricity bills for all these streetlights which will be run based on solar energy. I come to this conclusion: with great problems come with great solutions. We just need to solve one at a time.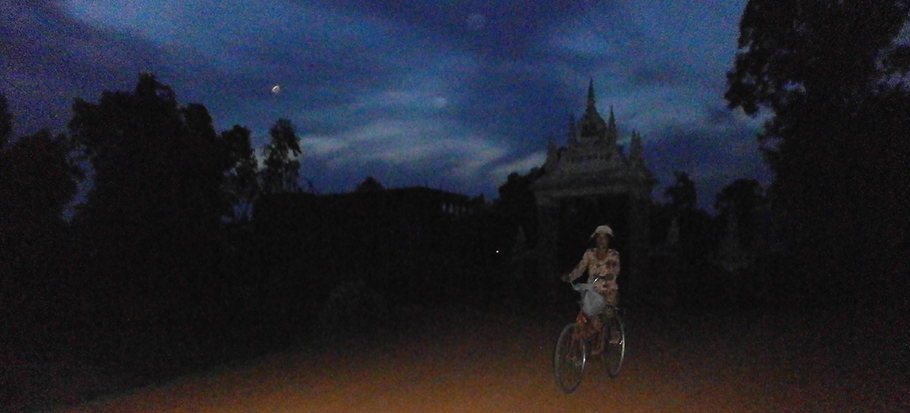 I got a chance to interview Robert Haendel, founder and CEO of Fosera Lighting Pte. Ltd. which cooperate with World Toilet (worldtoilet.org) to implement the project.
Question: Who initiated the idea of installing streetlights in Cambodia? What inspired you or your organization to start this project in Cambodia?
Answer: The idea with Indiegogo came up as we had the COMMLIGHT ready developed, but no funds to start production. To find investors takes a long time. We needed to find a location where we can make sure the COMMLIGHT is needed and increases life quality and safety, where we have local trustworthy partners that can find us these places and take care of proper installation and eventually find local entrepreneurs to start a business with this project as a reference. That's why we met with the guys from Bophub.org (an NGO), who are already active at many places and then we identified these 3 villages in Cambodia as the place where the COMMLIGHT is most needed. This enabled us to make a detailed installation plan, where everybody can find his donated COMMLIGHT on googlemaps.
Question: Why did you choose Kampong Chhnang province? Any data or statistics/news report to prove that K. Chhnang is the place vulnerable enough to get this project started?
Answer: As mentioned above, Bophub and worldtoilet.org (Both NGO's work together), pointed us on this place due to their experience with their work already in this area.
Question: Your company (Fosera Lightings) aims to redefine rural living "through enriching productivity and life quality by extending the day after sunset." You mention that after two years of intensive research, you have developed COMMLIGHT® as an independent lighting system that is easy-to-install at any location not connected by the grid." Could you please help simplify how this will actually work in Cambodia's provinces where electricity is barely enough or in very remote places, almost non-existent?
Answer: In a nutshell the benefits are increased safety on streets and public places (health centers, village dwells, schools, shops ect..). Then once there is light outside the houses, people can meet there, eventually open an evening market place or make village gatherings. We can show you one of our prototypes installed on an UNHCR refugee camp at the border to Somalia, around the light is the only place where people can gather in the evenings.
Question: How will you work with your NGO partners in Cambodia and Cambodian authorities to set the lighting up? What have you heard from the Cambodian authorities so far about this project?
Answer: The streetlight works automatically at night, and is mounted with anti theft screws where the tool is available only to the NGO. For theft the pole needs to be cut, so this can be a hurdle. The NGO partners of Foresa Lighting in Cambodia works closely with the local authorities and has good relationships with them. They are aware of this project. Our partners' plan is to form a local committee for guarding and maintaining the streetlights. The committee will likely consists of village chiefs and beneficiaries from households. When the streetlights arrive, the plan is for the committee to collectively sign a document which clearly states the responsibilities in suage and maintenance of the streetlights. It will also state that all beneficiaries will share in the cost of maintenance of the lights. When repairs are required, World Toilet Organization will be informed and coordinate the maintenance.
Answer: The 3500 is already enough for 10 streetlights, so we cover already important spots like village dwell and health center. We will install as many lamps as we get funding for. Hopefully with your help we still can reach our goal.
As of September 6th, Foresa Lighting could raise fund on
Indiegogo
of up to 7,779 USD, which as I calculate, could construct close to 20 streetlights in Kampong Chhnang. If you want to donate some amount to the organization, you can contact them directly. A full independent lighting system or Commlight would cost 360 USD. I happily introduced Aditi Sridhar, the campaign manager of Foresa, to the Cambodia Daily. You can read
this article on the Daily
for more information.