Just a little (PR) article about myself here. 😛  I'm not doing an online campaign about myself at all =). Please bear with me!
I was very surprised to find it on the US embassy website, not to mention seeing my pictures on the US embassy Facebook page!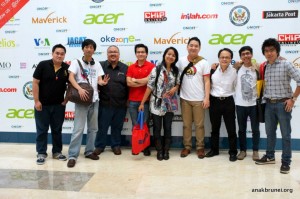 ——–
Cambodia Participates in the First ASEAN Blogging Exchange
Released on December 2, 2011
Cambodian blogger Kounila Keo will be in Jakarta December 2-4, 2011 to participate in the first-ever exchange bringing ASEAN bloggers together to discuss the digital landscape in Southeast Asia.  On Saturday, December 3, the bloggers will attend ON|OFF, Indonesia's largest national blogger gathering.  The bloggers will share insights and experiences from their home countries with hundreds of their fellow ASEAN online citizens from Indonesia.  Following the ASEAN Summit and related meetings in Bali last month, this program aims to promote online media as a tool for promoting a region-wide awareness of ASEAN and facilitate the exchange of ideas among ASEAN youth.
The U.S. Embassy in Phnom Penh nominated Ms. Keo, the only Cambodian blogger attending ON|OFF, because she is recognized as a leading voice encouraging other Cambodian youth to participate in blogging.
Before attending ON|OFF, the participants will enjoy the hospitality of Jakarta's blogger community, who will host an informal dinner in cooperation with the U.S. Embassy in Indonesia.  After ON|OFF, U.S. Ambassador to ASEAN, David L. Carden, will host a reception in honor of the bloggers.  On the Sunday morning, December 4, the ASEAN bloggers will participate in a panel discussion at the @america venue, the U.S. Embassy's digitally interactive cultural center, in Pacific Place.
"The United States is honored to help welcome these ASEAN citizens to Jakarta to participate in these important programs.  We are committed to supporting the vision of an integrated ASEAN Community by 2015," Ambassador Carden said.
These ASEAN participants are well-known in their home countries for their talented and insightful online postings.  This blogger program is a collaborative effort of the U.S. Mission to ASEAN, U.S. Embassy Jakarta, and U.S. embassies throughout the ASEAN region.  To follow the bloggers please visit ASEAN Blogging Exchange website.