I was browsing through online around 11 pm while suddenly my phone rang. It's not the only call I got. Many friends called me to ask what was happening at Diamond Island, a small island where people enjoy holding festivities. The first number of the dead a friend told was only "13" but a while later, shockingly enough, The DAP Khmer newspaper reported the latest that more 100 people have died in the tragedy, and approximately 500 people have been hospitalized.
It was this quickly-spread panic that got around 100 people killed and 500 hospitalized. Many ambulances were sent out to rescue people. Different news media reported on different causes of the stampede, yet whatever, many lives were finished there.
The Associated Press reported soon after that:
Soft drink vendor So Cheata said the trouble began when 10 people fell unconscious in the press of the crowd. She said that set off a panic, which then turned into a stampede, with many people caught underfoot.
Part of the crowd pushed onto a bridge, which also jammed up, with people falling under others and off the bridge. Ms. Cheata said hundreds of hurt people lay on the ground afterward.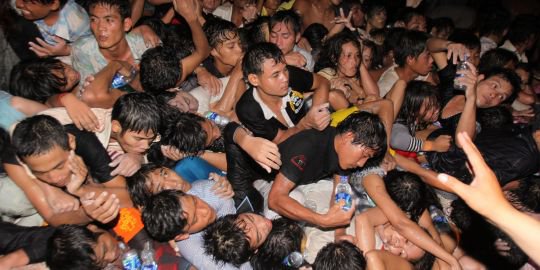 I called the AFP photographer who told me that he spotted a huge pile of dead bodies of festivalgoers laid down next to the bridge where the stampede took place. AFP reported:
The bodies were laid out near the bridge that connects Phnom Penh with Diamond Island, a small island where festivities were being held to mark the end of the three-day Water Festival.
It's horrible how one of the exuberant time turned into an unforgeable tragedy. Before I even finished this blog post, the Cambodian prime minister hurriedly made a speech live on TV and said he felt sorry for what'd happened. The death toll may "rise up to around 180," he said.
I'd like to thank all the friends who kept calling and texting me!