Vietnam is addictive to travel to, and there is so much to write home about. But shockingly, $50 was all I had left after Dalat trip.
I had really longed to go to Mui Ne, a coastal resort town, in order to see Doi Cat, a vast area of sand dunes in Vietnam, and I was dying to see the beaches in Mui Ne. The little money interrupted my thought. Of course, $50 wouldn't get me anywhere far as I mentally calculated the cost of round trips from Ho Chi Minh City to Mui Ne, and definitely the other bus trip from Ho Chi Minh to home (Phnom Penh). Of course, I know that it is not every day that I could come to Vietnam and see so much of the country within a few days. In all honesty, this country always fascinates me. People are enterprising and competitive. Young and old all work hard, which is really admirable.
After two nights in Dalat, I returned to Hoi Chi Minh to work for two days at the main office of a new company where I have recently been hired. I usually travelled light, but I had to drag along a rather big suitcase a travelling friend asked me to bring back to Cambodia. >.<


"Are you going to Mui Ne?" Zoey, one of my Vietnamese colleagues at the company, asked me. Feeling unsure,  I nevertheless said: "Yes, I'm going there!"
Uncertainty can be fun.
But, $50 was still in my mind. "How am I gonna manage to see Mui Ne with this budget of just $50?" I quietly asked myself. That night, I had to travel seven km farther from the city centre to stay with a young Vietnamese friend, Minh Ngoc. I have known Ngoc for a few years, and there is something about her that I like so much. She is more mature than her age, and I've found that we have a lot in common.
I had to pay $5 for the taxi to Ngoc's house. If I had a choice, I would take xe om (pronounced as se om), a motor taxi like in Cambodia, which could be half less expensive. From my previous travelling experience, I figured out that taxi in Vietnam was a bit more expensive than Bangkok, yet Phnom Penh's taxi is the most expensive of all.
Next morning back at the office, Zoey asked me again. Surprisingly, I gave her the same answer. But, how am I gonna make it with just $45 in the pocket for now? Zoey saw my photo albums on Facebook and places I've been to. She noticed that I'm not a picky person, and I could chill out with her family in Binh Thuan, about 22 km from Mui Ne. Later that evening at work, she said she wanted to host me for one night in Ho Chi Minh City so that I could save a bit of money, and what made me unable to stop grinning was hearing that her family in Binh Thuan province would host me for however long I wanted to stay!
"Yay," I felt like punching in the air.
I didn't ask Zoey earlier to host me because I thought that Vietnam offers quite a lot of cheap hostels for $5 to $15 a night, so it wouldn't cost an arm and a leg just to visit Mui Ne for a few days, not to mention a few weeks. Street side food is even more affordable, and take my words for it, delicious!
Zoey took me to her place for overnight stay, and the next day, I took a stinking van which cost me 200,000 dong equal to 5 USD to Phan Thiet city (Binh Thuan province). It was probably the last van that traveled to Mui Ne that day as it happened to be an Independence Day. All the buses including Phuong Trang were all fully packed with passengers eager to leave Ho Chi Minh city for a few days for some fresh air or a family get-other in their hometown.
Compared with Cambodia with around 24 public holidays, Vietnam has less than 10 public holidays. In Vietnam, vans hire xe-om drivers to collect passengers who live close so a xe om driver picked me up from Zoey's house in the morning.
"To Mui Ne?" I asked a guy whom I thought looked like the van driver after the xe-om dropped me off. He looked at me from head to toe and nodded. Everywhere in Southeast Asia, people keep telling me that Cambodia is easy to travel around thanks to the fact that many people speak English a tad more. I did not witness easy communication in Vietnam yet, a lot of times it involved a lot of gestures and facial expressions with the locals. They are usually very helpful here, however.
Relieved it was the van, I hurried to be seated inside, and smiled to myself at the thought of seeing Mui Ne for the first time, especially after seeing all the nice Internet pictures, the only source to the beauty of Mui Ne I had. Suddenly I noticed a young female passenger, about 23 years old, coming inside the van. She seated herself right next to me. We looked at each other at first to acknowledge each other's presence, and then I decided to speak to her in English. I didn't expect for her to reply back in English, but she did it in a very good English. I am not saying that nobody speaks English, but like Cambodia, it is not expected that everyone speaks. After a few chit-chats, she asked me to call her Teresa, because she mentioned her Vietnamese "name" would be difficult for me to remember. Her Singaporean boss, she said, found it challenging to remember Teresa's Vietnamese name. That's why when she met foreigners on the road, she would tell them her English name only. 🙂
After some chitchat on the bus, Teresa looked around, and whispered to me that the van was not going to Mui Ne but Phan Thiet city. I couldn't imagine Phan Thiet city at that moment as I had so far imagined only Mui Ne all this while. Feeling devastated, I asked Teresa to help call my friend Zoey. The other lesson I learnt that day was to buy a cheap sim card quickly whenever I got to a new place. It could be cheaper than I had previously thought.
Honestly, I was quite prepared for this trip at the beginning by writing down Zoey's family's house address in my notebook in advance but soon I realized with grief that the van was not going directly to Mui Ne, but to Phan Thiet city. I had thought all this while that Zoey's family lived in Mui Ne. I tried to think positively though that something good would happen if I did something :). Perhaps, there would be a plan for me. Later, I found out that I could ride a motorbike for about an hour from Phan Tiet city to Mui Ne beaches. Good plan, indeed.
Teresa and I quickly became friends. Her brother, about 21, was later picked up along the way, and joined us in the conversation after he got into the van. I suddenly realized that moment that some young Vietnamese if not all have been struggling to have a good command of English for study and work. It reminded me of Khang, a 9 year old boy who impressed me and my travelling friends with his almost perfect English and quite a mature manner.
Both Teresa and her brother kept entertaining me along the way with their fun stories about their staying in Ho Chi Minh city. They talked with immense pride about their hometown. I felt that I could relate a lot to them: living far away from one's family and having to juggle between financially supporting oneself and the family. It is the moment of each action that shapes who we are, I thought in my mind.
I preferred listening to them talking about their lives, but the van had to stop because it was lunch time. Teresa and her brother opted for the cheapest lunch: two boiled eggs, veggie pickles and rice. I was ashamed to have ordered chicken with veggie pickles and rice, and offered it to Teresa and her brother, but they both politely refused and went on enjoying their lunch. However, when the bill arrived, Teresa immediately offered to pay for my lunch. I said no, thinking that I would never let her pay, especially when she was trying to be economical herself. As a visitor to a neighbouring country and just an acquaintant, I was overwhelmed with Teresa's kindness. Travelling on a short budget themselves, they still insisted on paying for my lunch. I said no the second time, but Teresa had already paid for the lunch. :-/
On the way, I was excitedly thinking about Zoey's family. Zoey told me that her mom works as a high school teacher. She teaches more than six hours a day. Her dad was a teacher too, but now he takes care of 200 dragon fruit plants. A pretty huge dragon farm. I hoped to taste the sweet purple dragon fruit from their farm too. And, I really did. They were very welcome, and offered me lots of food to eat. Zoey's sister sings like a little diva and posted some of her guitar songs on Youtube. I had a lot of fun during the two night and three day stay with Zoey's family in Phan Thiet city. I remember we watched Vietnamese drama together on TV with me asking Tram to help me translate some episodes. Actually it didn't take a lot of time to understand the drama because Cambodians are similarly big fans of such romantic drama. Treacly sweet scenes, jealousy and all that tantrum. Phan Thiet City really reminded me of dreamy Pondicherry (former Puducherry) where I went to in 2012. Staying there, I could easily take a 30 minute motorbike ride to Mui Ne with Tram. She was my tour guide the whole in Mui Ne. We visited Doi Cat and I really had fun riding around like a local.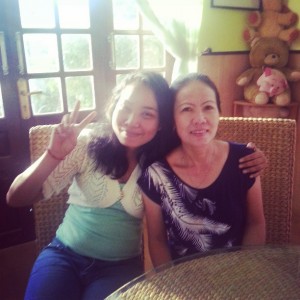 My host mom cooked breakfast, lunch and dinner for me. She got up at around 5:30am to do some exercise and take a great deal of fresh air near the beach and while I stayed there, returned home with a bag of food. I really appreciated that! Zoey's dad always smiled at me, and funnily enough his fish dish was the most favourite food during my stay.
Embarrassingly, I spoke not more than few words in Vietnamese with my host family. Tram spoke excellent English though I had to communicate the most with my host mom in Vietnamese. We sometimes communicated through body language (body gestures) and sometimes Google Translate. Amazingly, they have very fast Internet connection at home, which Tram, Zoey's sister, often uses to do her homework. Google Translate was my hero. The very moment my host mom understood my first sentence that was translated into Vietnamese by Google Translate, I knew that Google Translate and I were gonna be the inseparable friends.
[To be continued]