Ich komme aus Berlin schriftlich.
Cambodian journalists back home know very well that 'multimedia and online journalism', an advanced and futurist element for journalists, is still underdeveloped and that a lot can be done about it.
The prediction that every journalist has to adapt to the change to the 'multimedia platform' is becoming obvious. New sites have begun to integrate 'multimedia' into their online sites. This also means opportunities will come to those journalists working for whatever media outlet to embrace this.
Back to my country, it is NOT that we do not want to improve it, but considering that Internet technology started late in Cambodia, media houses should now start to train local journalists in this area.
What I've learned
The lack of this knowledge in my country has prompted me to take a two-month course on "multimedia & online journalism' course organized by GIZ organization. The first week of the course was such a fruitful time because my class lessons touched on one important issue that every Internet user including online journalists face every day: Internet Security. How can you protect yourselves when you are online? Check this out.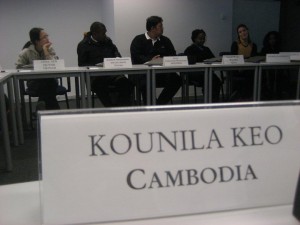 The following second week made me think of what I can do for the media houses back in Cambodia or what online news websites there can transform themselves to a full-fledged and perhaps more widely-read source of news.
From what I have learned for the past two weeks, there are more than
several significant elements for a news site to consider. Taking the example fr
om the newspaper site I am working for, I plan to discuss these integration parts with the newspaper head.
Concise headline + attractive precise teaser + short paragraphs (writing for the web)
More outlets that should come along with a news story: good photos, slide show, audio/podcast, soundslide, video
Working as a print journalist for nearly three years, I do not think it is extremely difficult to convert to a multimedia journalist, and for those media houses to gain more online readership, texts or photos alone can make readers click.
Tips for print journalists to become multimedia ones (Reporter's guide to multimedia proficiency.pdf)