I drink Coke these days, and while I'm writing this, I'm craving for the taste of Coca-Cola with ice and a lemon twist to it (by sprinkling some lemon on it or soaking lemon slices in it) which always gives me a refreshing feeling when I travel. At different stores, I can easily find a box of about 6 or 12 coca-cola cans. I usually buy them and share them with my classmates when we do group meetings.
While I was travelling in Bandung in Indonesia last week, I flipped through Facebook profiles of my friends from Cambodia and other Southeast Asian countries and saw a Share-A-Coke campaign which allows individuals to have Coke cans with the words for loved ones (father, mother, friend, my heart…) and hopefully Khmer names of their loved ones in the near future. I was wishing that I would have them for myself, too, and thinking of a few names for my parents and siblings already.
It was amazing to know that I will have Coca Cola with my favourite people. I heard later I can have Khmer names of my beloved ones. Therefore, I have these for my Coca Cola cans.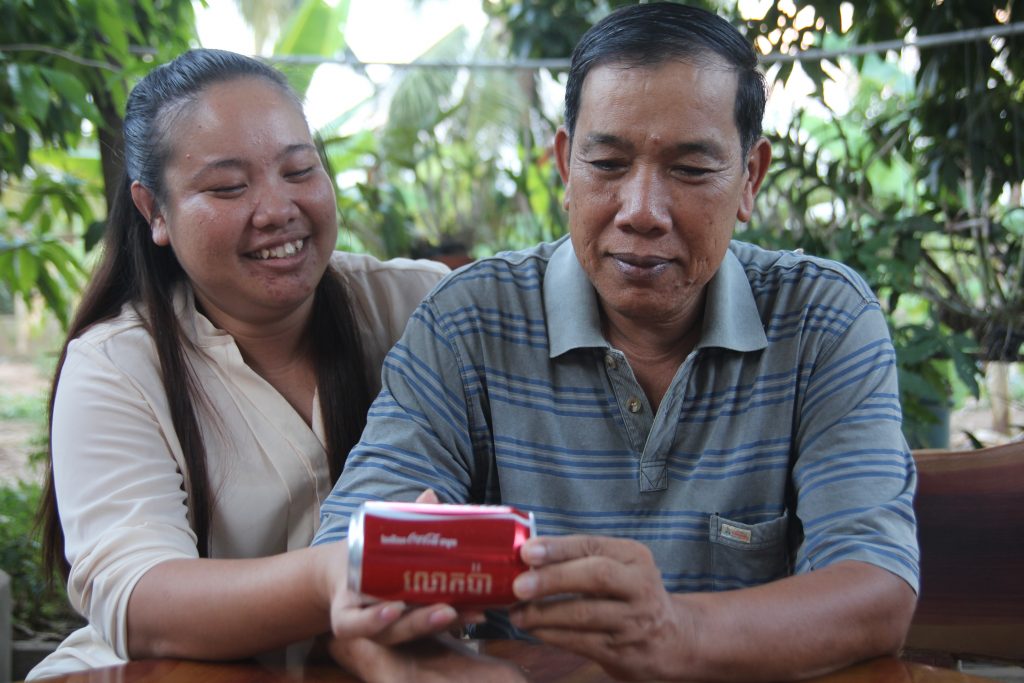 The Share-A-Coke campaign has not just been viral in Cambodia but also in other countries. It creates an atmosphere of sharing love and kindness to family, friends and loved ones. The Cambodian Beverage Company came up with an interesting customization idea for Cambodian coca-cola fans to have their favourite Khmer words printed on the cans and let people share their love with their family members or loved ones via social media such as Facebook. I believe that sharing is caring, and the more you share, the more you receive as well.
For your information, Coca-cola cans with words such as mother, father, sister, beloved, etc in Khmer language are now available at local stores throughout Cambodia. This is one of the fun ways to say that you care to your loved ones. Now, it should not be a hard job for you, to think of whom to share this with. 🙂
Now that our sizzling hot Cambodian summer is still around, what's a better way than sharing cool drinks with someone you love and miss from near or afar?
Disclaimer: With regard to this, I'd like to say that Coke is a product that must be consumed within your own responsibility, just as any other kind of food product. I am in no way rightfully held responsible for your own consumption or purchase.
#sponsoredpost