Hey, I'm back again after quite a long absence. It's totally a new feeling as I write another personal blog post again but in a foreign country, not Cambodia. 😉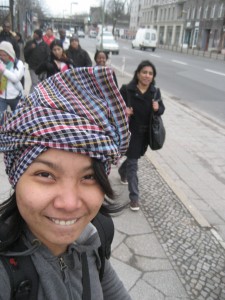 I'll be here in Berlin, Germany, for two months, attending a workshop on multimedia and online journalism. How cool! Ain't it an exciting course! Well, personally I feel it is an enriching program to explore. Below are some things I will be taught:
Within 9 weeks, I'll be learning: media landscape of other participants' countries, Internet technology, security safety, blogging, writing for the web, photo-editing, slide show, blogging for news websites, audio-editing (audacity), photography, audio slide show, video editing, information architecture, web design, social media strategy, online research, copy rights or Internet policing, CMS (wordpress), web project, Mobile web,IIJ-FAZ media (conference), excursion, how to optimize websites, Economics of web, journalist ethnics, train the trainers and finally evaluation!