(Note: This is a very personal blog, so please bear with me, as I am trying hard to tone down the excitement.)
When my friends asked me what could be fun, I said nothing beats blogging. I believe that if things aren't fun, they're not worth doing. Since early 2007, blogging has been my favourite pastime. Journalism is merely something I do for a living. I kicked off my first blog journey by writing about what happens around me, and I still do this till today. With this absolutely fun and knowledge-enriching tool, as a self-publisher or blogger, I put down my thoughts into words. Have I told you that it feels incredible to be able to see how much you've grown up? I still spend time reading my old blog posts sometimes!
It's even more amazing and rewarding to find out that my blog is read and talked about by people and the media in Cambodia as well as other countries. As of early 2012, I have been blogging for 5 good years. There's hardly anything else in the world that can replace blogging in my life. Aside from my offline or real life, blogging has been a big part of my online life. I might sound as if I were exaggerating, but if you want to find out whether you'd ever feel the same way, I dare you to blog. <3
They say learning by doing is the best of all, and I concur that by keeping blogging despite busyness and negative feelings that sometimes exist, I certainly acquire a whole new feeling about myself and the know-how of writing and living alike. A few words to sum up my blogging experiences would be: I've gained friends but never enemies, love but never hate.
2011 flies away so fast. I know you feel the same, but I am not ready for it yet! Politically and socially, 2011 is a year of transition and the year of omnipotence of social media worldwide. I have heard a lot about the Arab Spring in the middle east that has attracted tremendous attention from people and the media. I have met a person who protested at Tahrir square to help oust Mubarak from his long-standing grip on power. Why should we ignore the good things that social media bring to individuals, companies, organizations and countries?
Personally, 2011 means so much to do providing that the most memorable persons, things, experiences and memories came into existence. I have promised myself to post things I have and have not achieved at the age of 23, one day before 2012.
Best thing I've done
 I incessantly and excessively applied for many programs, fellowships, conferences and courses online. And, I really meant it.  You would find me with my laptop typing away my answers together with detailed information about myself and sending my applications off immediately while waiting for a reply in anticipation. [I was suggested to write about how to successfully apply for a fellowship or program abroad. Will do soon.] As a result, within 2011, I have flown 10 times out of Cambodia to 11 countries and have been to about 40 cities ( USA, Germany, Czech Republic, Italy, France Malaysia, Singapore, Vietnam, Ethiopia, Qatar, Indonesia.) I wasn't born with a silver spoon in my mouth, which is fine.You don't have to be a millionaire to travel, do you?  Because I couldn't afford to go to those places with the income my writing job earns, I chose to rely on applying for grants to study, travel and work for them.
Best speaking event I've been to
If you'd like to see the video in which I spoke at TedxPhnomPenh, please go to this link.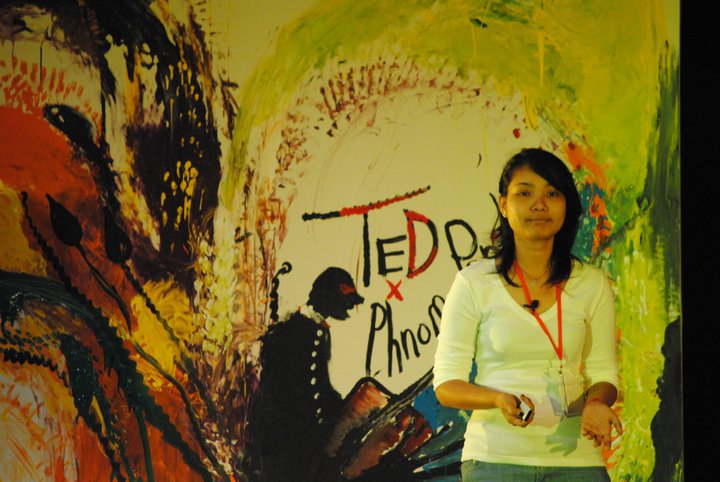 Best teacher I've ever had
My friends and I tried to continue our late teacher's legacy by working hard, savoring every moment with family and creating fun for all. He passed away in May this year due to a major stroke, and has been much missed since. Read this wikpedia article my classmates and I tried to write up in the memory of him.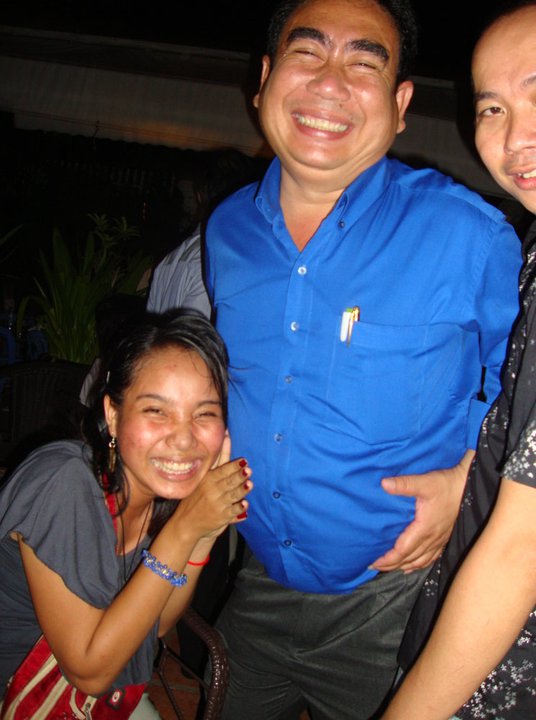 Best moment: International exposure
I was selected as one of the 10 youth bloggers out of 1000 applications from all around the world. We interviewed people, took photos, created podcasts and videos of the 7th UNESCO Youth Forum, not to mention the fact that we met nearly 400 youth from nearly 93 countries within 5 days at the UNESCO headquarter in Paris (October). In the picture, we were asking questions to the UNESCO director general, Mrs. Bokova.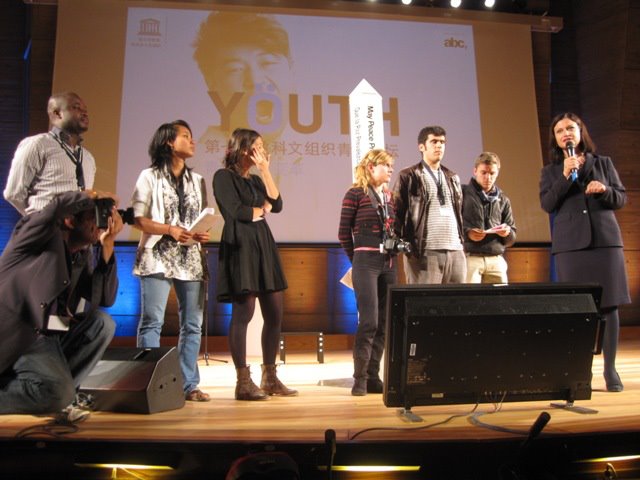 Best shot by the Person of the Year
This photo can replace a few thousand words about me and the life I lead. It also represents friendship between people from one country to another despite physical appearances, political belief or religion. I reckon that 2012 will perhaps be one of the most interesting years for Cambodia not because it will chair ASEAN or because of this cute photo of me and my friends:-) Yet, it's because we will see young people everywhere travel more to various countries for BarCamp, TEDXevents, similar tech events, or share online through social media.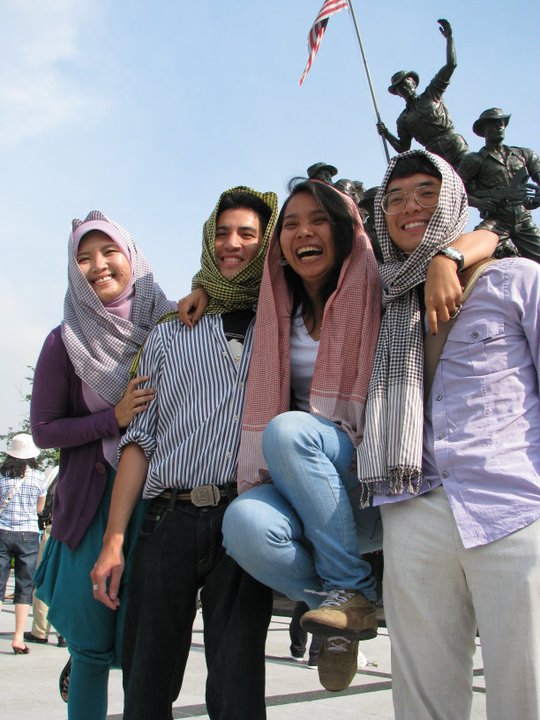 Craziest moment of the year
It was crazy. I was very sick. I decided to climb the rock hill with no equipment such as a harness or a helmet. There was no walking trail or anything but I just followed the local kids who knew how to get the top like the back of their hands. Rocks weren't small, and their body wasn't strong enough either, so they kinda put their life at risk. I felt bad about getting them to show me the way.The bottom of my jeans were torn due to climbing , and I had a limp after I got down from the hill. No big deal. If you want to know how hilly and high the rock hill can be, just look at the one behind my back or look here. Why did I do that? I don't know. It was steep and rocky. There were barely strong plants or anything else for me to hold onto. I wore saddles up there but their bottom parts were too slippery to step on the rock. I wouldn't have any chance to survive, I thought for a moment. My heart raced, and I could hear it throbbing. But what I chose to do next was taking off my shoes and stepping on the sharp rocks barefoot. Painful. There were a few moments of fear of death if I didn't keep holding on to small plants growing out of big rocks. I for one wanted to do it on a whim or whimsically.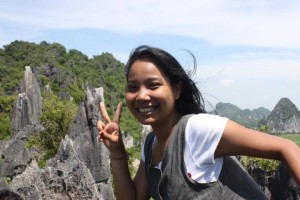 Best trip
They say if you want to experience wealthiness, go to North America, as most of the people there have plenty of food to eat and share. It is also said that if you want to appreciate your life even more, just go to Africa. I second that. Life there is a constant struggle for both men and women. It's not backward but it's not going forward either. I learnt to appreciate my life a lot here, I don't wanna whine..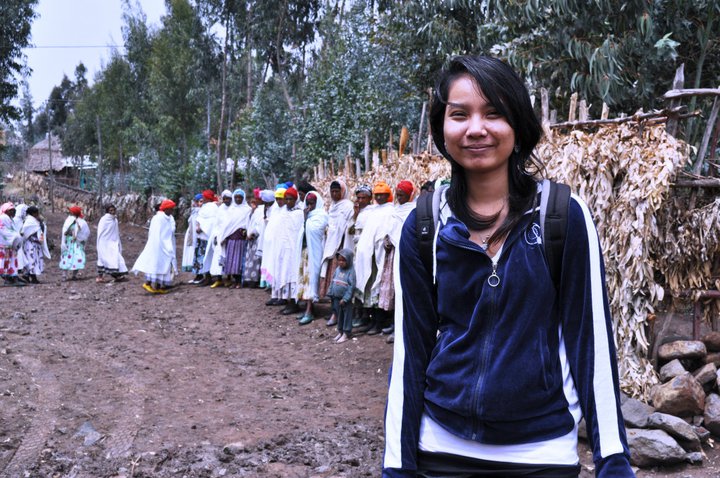 Best moment of fame
I heard about them, but I didn't happen to see their faces often either. I was lucky to present Kramas (shawls) from Cambodia to both of them. How funny! I talked them into wearing Krama. http://en.wikipedia.org/wiki/Mahathir_Mohamad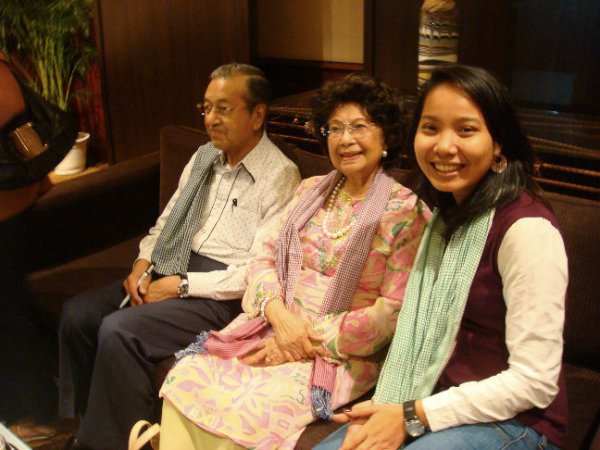 (Another note: I really miss all my friends from school, university, work and anywhere else. I must admit that I have not spent ample time with or rarely met them this year. I still vividly remember the moments, stories, fun, sadness, trouble and the list goes on. My memory isn't like a sieve, and I swear that I can remember each and every one of you like I remember my name!)
News coverage this year:
Asia Life: http://www.asialifeguide.com/PP-Life/qaa-kounila-keo.html
AFP: http://www.google.com/hostednews/afp/article/ALeqM5hxmVIUSI-lXZBNDW5htVSOTLOEKQ?docId=CNG.69c8e698ebf488065198382a17ecd202.131
Jakarta Post: http://www.thejakartapost.com/news/2011/11/17/the-role-bloggers-asean-community.html
In Indonesian language: