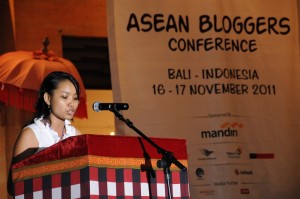 A month ago, I landed in Bali for the first time in my life! Hey, I am not trying to sensationalize this. 😛 Just as Ani and I were properly seated at a cafe in KLCC airport while transiting in Malaysia, we were surprised by the presence of Vietnamese bloggers: Tai Tran, Anh Minh and another blogger from Brunei, Kamurul.
I was invited to attend a blogging conference in Bali, along with others. Sadly, the blogger fellows from Myanmar couldn't join us because they were stuck at the airport. They weren't allowed to board the plane in Thailand by "mean" officials >__<.  They transited in Thailand, and were supposed to fly from Thailand to Bali. Actually, this time we missed them, not again in the future, I hope. And, the bloggers from Singapore didn't turn up for some personal reason.
We were taken to Pop Harris (see the picture below, colorful, huh?) and just right after 6 hours of rest or so, we had to get ready for breakfast and took a bus to Museum Pasifika at Nusa Dua. Right over there, there were around 200 bloggers with about 10 people from other ASEAN countries in total.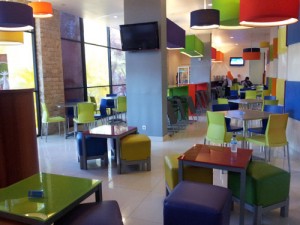 This was a high-profile meeting. 😉 The conference was also honored by the rather short speech of the Indonesian Minister of Telecommunication who hoped that the conference would unite the bloggers communities from different countries by being represented with a single voice before 2015. 🙂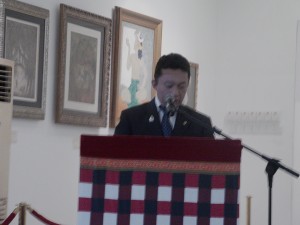 All the representatives from ASEAN were given 10 minutes each to brief all the participants about the blogging and social media scene in their respective countries. Indonesia led first after which the Philippines was to speak next; then Vietnam, Cambodia, Thailand, Laos and finally Brunei. Seated at my place listening to the speakers, I was amazed at some facts and figures given out by them. About 43 million Indonesians are on Facebook, making it one of the biggest FB nations in the world, not to mention 2.7 million bloggers from various communities existing in Indonesia alone :P. Even though freedom is being restricted in Vietnam, Tai Tran and Anh Minh told me that there're nearly 2 million bloggers in Vietnam. I was struck dumbfounded. What Indonesia, the Phillipines, Malaysia, Vietnam, and Thailand have in common is an abundance of large online communities where bloggers and micro-bloggers or social media lovers meet and hold talks. Though the size of online communities in Singapore, Brunei, Cambodia and Laos might be small for now, but this thing will change. Well, I'll explain below by giving an example.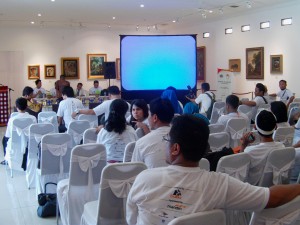 Well, in Cambodia, I'm not sure we might have one thousand or ten of thousand bloggers. 😛 There's no directory that records the number of all cloggers (Cambodian bloggers) yet. Shouldn't we have one? There's some prediction that micro-blogging such as Facebook and 140-charactered Twitter is killing blogging, but I think bloggers can use micro-blogging tools to improve traffic of their blogging contents. Heh, more round-table discussions should be raised to shed the light on this. A threat or a synergy? Then, I told the quite bulging crowd that Cambodia's Internet penetration is like from 7% to 10% as of 2011 (whole population ~15 million), and Cambodian Facebookers account for more than 400,000, about the size of the Bruneian population. 😛 It keeps growing, I tell you! In provinces, some young people know Facebook before they are aware of how to use emails, Google or Yahoo :P. I can verify this, so come and meet me.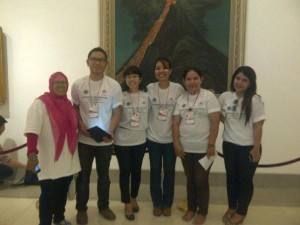 The speeches given by each of the ASEAN bloggers were followed by short talks given by Google and some people who have experience in tech start-ups in Indonesia. I am so proud of Indonesia for doing so well with its own tech scene. Young people are so keen on entrepreneurial things. Then, the participants were divided into 3 groups as everyone was asked to form Bali Declaration. It was certainly a long discussion by ASEAN bloggers who chipped in with their own ideas. Finally we made it with respect to each other's country's rule of law and political situation. Read here for ASEAN Blogger Declaration in Bali and watch a video of ASEAN Blogger Declaration too.