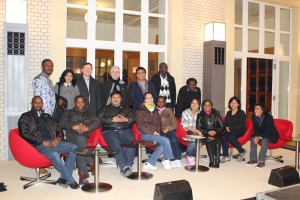 Many people believe that traditional or new media should play a crucial role by only informing the public about what happens out there, especially in time of crisis. However, does it occur to us Cambodians that some parts of the world have now turned to innovative digital tools as well as traditional media such as newspapers, radio and television to enhance education?
Does it ring a bell when you hear that radio is used to teach those who do not have opportunity for formal education in Nigeria and empower young children in Germany and around the world? More than that, newspapers that we read for information is now pressed into a learning tool in Zimbabwe, a means to improve the use of the French language in Senegal, and a platform in which to engage young people in Indonesia.
In Germany, a country with a few hundreds of newspapers, it is not a new topic at all. The fourth International Media Conference recently took place on March, 17th 2011, in Berlin with new insights and discussions about media beyond classrooms presented to a diverse group of audiences including journalists and education experts from different continents: Europe, Asia, Africa and America.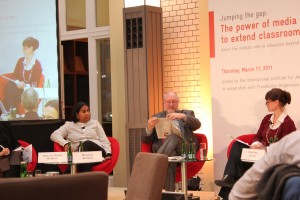 The fourth global media conference organized by the International Institute for Journalism of GIZ in cooperation with F.A.Z. focused more on the role the media as an educational tool and therefore provided a platform for experts to exchange information related to this educational paradigm.
Rosa Maria Torres del Castillo, a linguist and educationist from Chile, who spoke at the conference, proposed a radical shift by using media to embrace "lifelong learning instead of learning mainly to pass a test."
"We should move away from the idea that only schools provide education. The media, too, are an educational system of a different kind, and both systems should cooperate," she said in the conference.
This newly-found paradigm shift in education has attracted international organizations like UNICEF which intends to integrate social media activities by young people so that these networks are captured with the UN body's line of work.
As an example given by Gerrit Beger, Chief of Youth Section, from UNICEF Innovation, USA, 73% of the youth in Ghana is using social media network such as Facebook and Twitter via the Internet and mobile phone. According to Gerrit, another successful practice of digital street mapping proved useful, helping youth identify and point out dangerous zones in a slum located in Nairobi, Kenya.
Innovative digital tools such as social media are important in a disaster-prone country like Haiti, Gerrit said, to provide a channel for young people to interact and learn everything else while this country was struggling to go back to normal. The UN body conducted media workshops to educate the youth and above all else developed social media in local languages.
Is there a chance this can be adopted in Cambodia?
When full-fledged media houses are allowed full freedom to publish information, they turn into good media to inform, entertain and even educate the audiences. Yet, in the case of Cambodia, several challenges are in store. Cambodia has been encountering a domino effect of censorship on traditional media and the Internet, which has been spreading across Southeast Asia. This is alone an anti-education phenomenon which prevents Cambodian media to hardly function as the watchdog, let alone the educator.
With the government's repeated measure against already closely-monitored media outlets such as newspaper, radio and television, the Cambodian media hardly become informative, enriching and educational for the audiences, especially the youth and adults that make up for nearly 50 percent of the whole population.
Cambodia has 341 newspapers, 119 magazines, 22 radio stations and seven television stations according to IPS news. Nevertheless, in reality, only a few of the newspapers usually written in English, have substantial significance for the public to improve themselves because it is believed that English news sources are more neutral than local media outlets written in Khmer language.
In Cambodia, using newspapers to improve foreign languages such English and French, has taken off in the last ten years, and many English tuition classes have started using English newspapers such as the Cambodia Daily and the Phnom Penh Post, and no doubt other English publications to teach Cambodian students English writing skills.
But besides language benefit, what else does fairly-reported news educate people about?
According to Rosa Maria, it is necessary for journalists or media practitioners to become more than just a regular journalist but also an educator because with that said, journalists should contribute more to education.
Obviously, this cannot be achieved by many countries whose press is still strictly regulated.
Earlier this year, it shook Cambodia's Internet sphere when a news-aggregating blog (ki-media) known as scandalous among Cambodian officials and popular among Cambodian net surfers for its collection of news related to Cambodia, was blocked by a few ISP providers which claimed they did not when giving interviews to international media. Obviously, censorship has spilled into the Cambodian cyber world, making the new media outlet hard to function freely in the country.
Another area of concern besides the government's control over the old and new media is the low Internet penetration (291,000 users, 2009, Ministry of Post and Telecommunications) and practical skills of journalists as educators. That means, journalists need a lot of support programs when they need to take report to the next level.
Media educate
I believe that education should be a combination of three kinds of learning: formal, informal and non-formal learning. Formal learning is learning that takes place within a teacher-student relationship, such as in a school system.
Informal learning occurs through the experience of day-to-day situations (for example, one would learn to look ahead while walking because of the danger inherent in not paying attention to where one is going). It is learning from life, during a meal at table with parents, play, exploring, etc.
Nonformal learning is organized learning outside the formal learning system. For example: learning by coming together with people with similar interests and exchanging viewpoints, in clubs or in (international) youth organizations, workshops.
Media role in education can play in these three facets, and many efforts have been made in integrating media into non-formal trainings done by many international organizations, and one of them is "Radijojo."
Producing a result of an increase in engagement from children and young people, Radijojo, founded in 2003 by Thomas Rohlinger, has been operating in many countries in all the continents by using 'radio' to help children and young adults between 3 and 18 years old produce radio stories about themselves and their communities.
Within the project, radio is also used as a tool for global learning and inter-cultural understanding. In addition, the young participants learn to moderate international music show, interview sources, discuss issues ranging from children literature and language learning to health problems; from the promotion of peace to the improvement of environmental and political awareness. Until now Radijojo has cooperated with schools, community radios, educational, youth and cultural organizations around the world.
"The media play a role in informing and educating people. Moreover, they can do much more to solve recurring problems in society and teach kids to become better citizens," said Thomas.
Useful links:
Conference website: http://mc11.iij-blog.org/wp/
[Writing from Germany]