As I sat through this morning's first plenary session on the second day, I got so intrigued by the energy in our young speakers such as Ms. Paicy Bazil, young musician and advocate for youth development in Haiti focusing on vulnerable youth and Mr. Andres Villena, young economist, columnist, blogger and activist of the 15M movement from Spain. (Sadly, Gigi Ibrahim, young journalist and social activist from Egypt couldn't attend the forum due to a compelling personal difficulty. FYI, she was credited as one of the citizen journalists that documented news events using social media.)
I didn't understand everything (did I need to? 😀 )  which they said, and to be honest, I had to run around to interview many people for my voxpop. But I was extremely admiring their bravery to address their challenges and achievements to other youth coming from every part of the world.
Back in my country "Cambodia," youths are so skeptical about their power, their responsibilities and capability. The Arab Spring, the Spanish Indignants, the Occupy Wall Street, all of which are driven by social media have been repeated time and again for the past two days by high-level speakers and youth delegates at the forum, in all respect, lifted up the spirit of everybody. In other words, these phenomenon have made young people believe that change is possible (around the corner).  Yet one shouldn't debate too much and forget about acting, like what Paulo Coelho said in his video message sent to all the participants in the forum.
There's nothing to lie about here. I used to be one of the people who constantly asked myself "What can I do?" The change in how we use the Internet and how fast it mobilizes our civic power has gradually brought hope in me that nobody regardless the government, civil society and private businesses can get away with what they've done.
I also used to be one of those who kept saying "I can't do anything right now because I have nothing at all. No money, no support or not enough material to start with."
Today's interview with Edwin, one of the 6th UNESCO Youth Forum delegates and former senior professional from Indonesia, proved to me that I was wrong, and that there's always a place for those who really want a change in their life, communities and countries.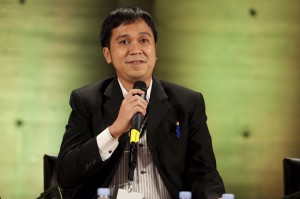 Listen to this funny audio interview between me and him (next). When I talked to him, I noticed that he's full of life, and the words he said that have been etched on my memory almost 12 hours after the actual interview, were, "To make a change is to take risk."
To take risk? You might be wondering. So was I after he said it. He explained that every one of us is  so tied up with our professional and personal life that we close our eyes and pretend that no problems arise. As a volunteer since the age of 15, he actually took one step back amid his professional growth and reflected on what else he could do to drive change.
And, hurray, two people gave me very enlightening interviews regarding youth issues. I confessed in my Facebook that I totally had no idea of who Nizan Guanaes was and what he was doing at the UNESCO, but I just stood up and went straight to him because he was so approachable. If you're a reporter or a blogger, don't do like me. After the interview, I hurriedly googled Nizan, and couldn't believe that he's one of the most influential people in Brazil and that he's been so active in empowering youth. He has worked closely with UNESCO to start initiatives in education, human rights and social inclusion. Monique Coleman as the UN goodwill ambassador inspired the whole room packed with our youth elegates and in many ways amazed me with her enthusiasm to help her peers. [Have you watched High School Musical? Find her 😉 ]
Listen to Nizan Guanaes.
"Well, I think that what you guys have to be is the voice of reasons because unreasonable people are always looking for opportunities to have excuses but not do what they should do. So the global agenda is clear that young people deserve jobs and access to education…" Nizan Guanaes
And, watch Monique's inspiring speech.
"Do not take yourself too seriously. Listen more than you speak. Learn more than you teach." Monique Coleman, 2011

Monique Coleman's special message to youths from Rajneesh Bhandari on Vimeo.