This is a blog post from 2012. Apparently, not all information in the post is valid anymore. Please contact your travel agent or friends to find out or go to the passport office to get your passport! This post was published on the Cambodia Daily. 
(Note: I wrote this article because I wanted to bring to light the struggle that Cambodians usually go through before they get a passport. If you are a foreigner and want to get a Cambodian passport, that is another completely different story and a new whole experience. There are other online resources that you can read to find out how as a foreigner you can apply for a Cambodian passport. However, this blog post was intended to shed light on what a normal Cambodian has to go through to get a passport. This blog post was later published on the Cambodia Daily.)
If you've been living in Cambodia for some time, you know how difficult it is to live here if you don't have a lot of money to accommodate the needs of those in power. If you were born Cambodian, then you also know making a passport here isn't very cheap like neighboring countries such as Laos, Vietnam and Thailand.
To get a passport within 1 month or 50 days or nearly 2 months costs $135 (including the service of having your photos taken); 2 weeks: $290, 3 days: $380, 1 day: $480.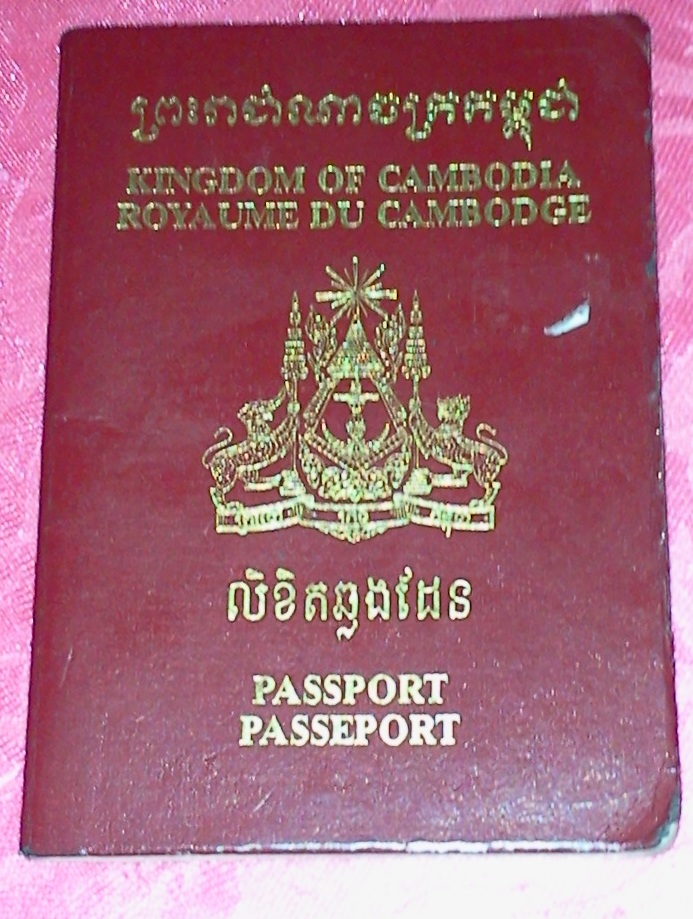 –          Come to the passport department and park your bike inside, if you have a car, park it somewhere else, as there doesn't seem to be space for your car. It opens from 8am to 10am (morning) and 2pm to 4pm (afternoon).
–          Bring your national identification card, family residence document and birth certificate.
–          Keep $4 with you. I really mean it. It could be 4 one-dollar notes, because you don't want to be scolded for giving them a big note and for them having to go look for change for you.
–          If you get a travel agent to make it easier for you to get a passport without having to spend hours there, you have to find him. But if you're on your own, find an application form to fill in your name, nationality, age, parents' names and occupations. Remember that the birth certificate and family residence book are significant to help you get through this phase. If the broker is there, she/he is willing to fill it in for you. The broker will also ask for the two documents as well as your national identification card (ID).
–          Make a copy of your application form and staple the original paper and the copy together.
–          Go to the counter close to the photo copy machine or ask people where to go next. They'll tell you. That counter is on the right side of the entrance door of the building. If you are there all by yourself to give the form, the passport officers have the habit of tossing your application below others'. If the broker is there, they'll make it very quick for him, therefore for you. After inspecting the name and basic information, they can point out if there's some inconsistency, but if there isn't, they will give you number tags.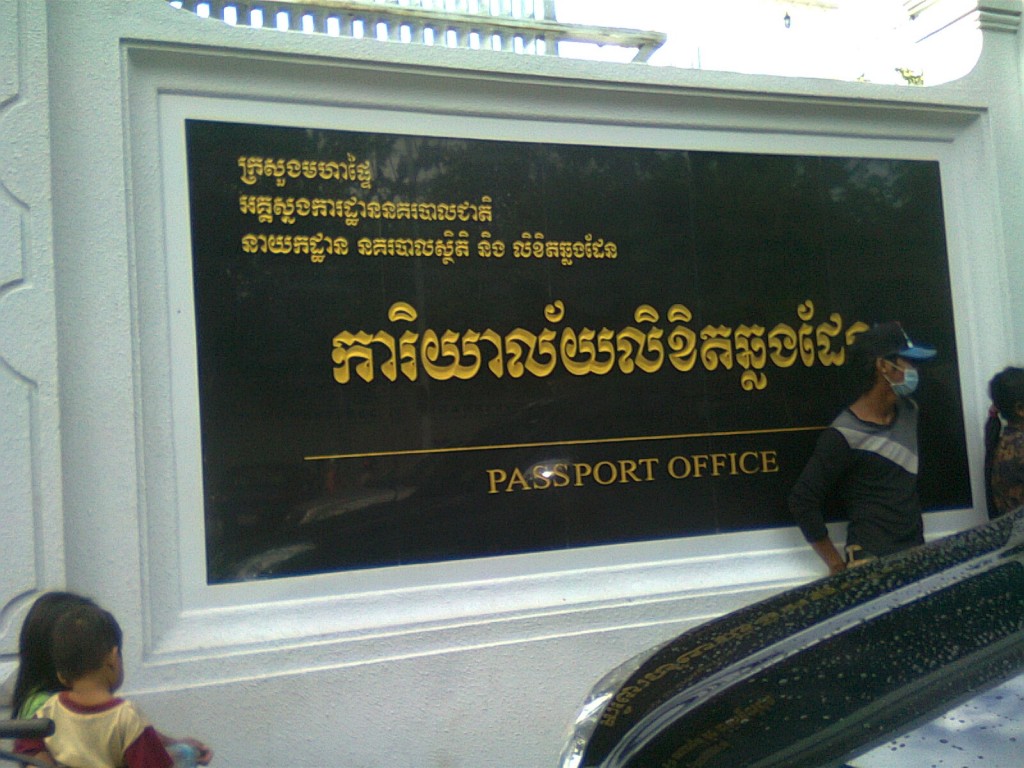 –          Enter the building with your number tag. With your broker's help, you might wait for 3 to 5 minutes or even less while others who are on their own can wait forever. There are very few rows of seats for those who wait; some even sit on the floor. There is a passport official sitting opposite the seats calling names every 5 seconds. Once he calls your name, he stamps your paper, and do keep in mind that the number will be important for the next step to take till the end of the process. Don't forget to leave the number tag and insert it on the metal bar you find on his table.
–          Look at the number on the paper he stamps and gives you. There are about 6 counters, one of which you have to go to next. For example, I saw number 4 on the paper, and I had to go to counter number 4. There, I met a very unfriendly passport officer who shouted at those who were unfamiliar with or new to place heir left and right thumbs on the red scanner. Face your paper down on the table. You are then demanded to place your left thumb first and then right thumb on the scanner as long as you can till he tells you to stop.
–          Take the paper (that consists of the original and copy application) which the scanner officer stamps. Leave him in peace, and go straight to another room which is the only room in sight after the scanner counters. Give $4 (12,000 Riel or 4 one-dollar notes) to the official seated at the table on the left when you enter the room. Don't expect the room to be spacious — it can accommodate only just about 20 people a time. Therefore, you can easily find the table where you are supposed to pay for your passport photo. The photo official will then imprint a tick with a pen on your paper, and you take it and go to a photo booth of the NUMBER that you were assigned earlier. You can have a look at the front page of your paper, and you'll know what number it is . There are only 6 photo booths, so it is not tough to find yours.  Give the official your paper, and go sit on a chair opposite his camera. His computer might look like it came from Stone Age, but you can't help but think this is Cambodia.
–          Make sure your hair doesn't cover your ears; otherwise once made, you're asked to take another picture again. This is a problem common among women. You won't like a stranger to ask you to toss your sideburn backward, will you (for gals)?
–          Get your paper back once the passport photo official stamps yours. Don't go to another room yet; go to the photo-printing counter two metres away from your photo booth as you have to wait for your photo which will be pasted onto your paper by an official. He calls your name, and you take the paper to another room.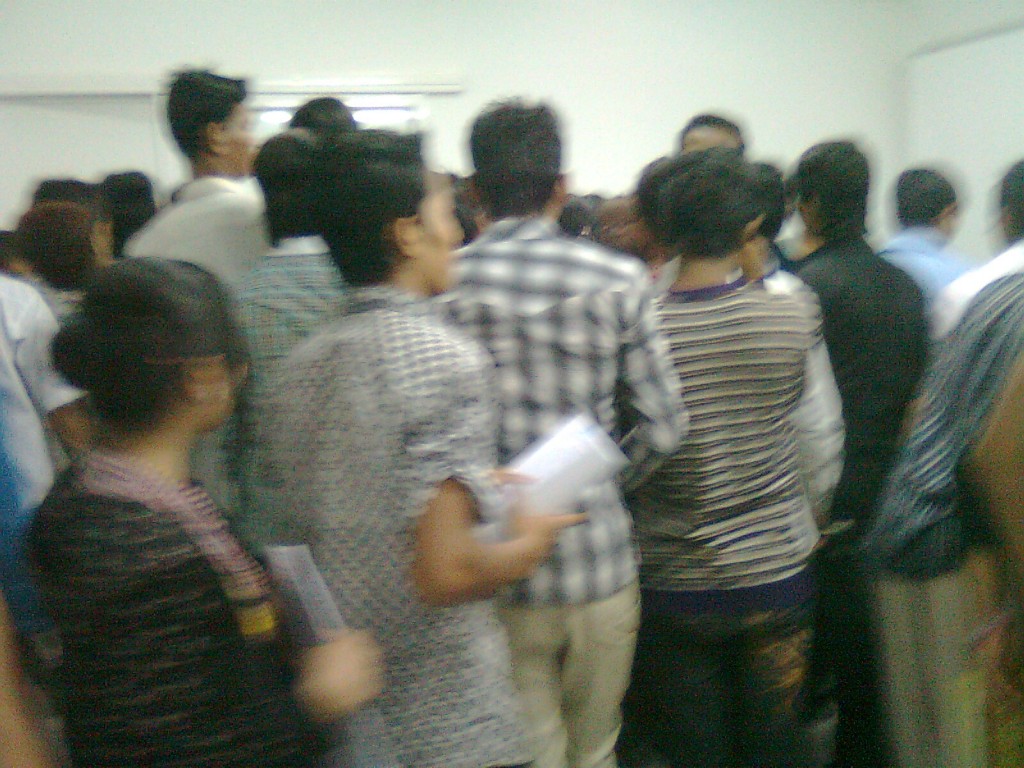 –          Enter the door next to the photo printing table, and go straight to two tables. Just go to one of them, and put your paper down on one of the officials' tables. This is one of the most hilarious moments you'll ever have in  your life. The official asks you what your name is and probably your parents' names. If you can't tell your name correctly, you are advised to go back to the beginning. Now, you should learn to pronounce your name correctly in this "interview" section. Minors (less than 18 years of age under Cambodian rules) are advised to bring their guardian or parents along. This passport official was surprised and said,"Hey, you're only 14 years old – too young to make a passport" at a girl standing next to me.  "Since when can't a 14-year-old girl make a passport?" I thought to myself.
–          Get your paper after they stamp yours, and leave for another room. Remember all the doors there are missing; perhaps they were stolen. Face your paper down on the first table you see when you enter the next room. You wait until the man reads through your document, signs it and calls your name. You take your paper, and go the next one: "height-measuring."
–          Face your paper down on the table or on top of other people's forms, and wait until the height-measuring official calls out your name. You'll find a long wooden measure stick attached to the wall. It is about 2 metres tall, and those who are taller than 2 metres have no way to make it through this stage, I guess. Take your shoes off, and lean on the wall near the measure stick. The man will tell how tall you are by way of his naked eyes or educated guess.
–          Take the paper he hands to you after he stamps it, and go to the next counter with the NUMBER you were assigned earlier. I stuck with number 4. Face the paper down on counter 4, and stay there till the official reads through your document, signs and stamps it. He then tells you to leave through the exit door. Don't take the paper with you, as he keeps it.
I'm compelled to write this down because the two times I made my passport were as hard. The passport office lacks signs, instructions and guidance.
I was reminded this important piece of information. There was no way you could go to the passport office, and make a passport without help from a broker. As I said, you'd forever waiting for nothing because your application would be tossed below other files that only come later than yours. Do remember that the passport officials share the rice pot with the brokers, in Khmer meaning they work together for mutual monetary benefits. I was also told that the brokers from tour companies pay a lot of money to the officials to get things done.
Brokers here can be passport officials themselves or the travel agents from tour companies. I tried calling both of them to see ranges of prices only to be informed by one official from the passport office that he would never cause any conflict with any travel agent after I asked him if he could help me. Earlier, I had asked a travel agent from the biggest tour company in Phnom Penh to get my new passport done in one week.
"I wouldn't want to break our rice pot together," he plead on the phone.
It's even ridiculous that your broker might not even have time to tell you what you are going through in the next minute at the passport office. I helped several people get to the next step — it was a total chaos. And, such a messed-up system really pisses me off. The process of doing it, as we describe it as 'red tape' is really "red tape". I was told that it would take me 30 minutes to make it, but it turned out that it was close to 3 hours that day even I would have to pay 280$.
[This blog post needs updating, and it might take awhile. I heard that now Cambodians can make a passport for 100USD within one month. Contact your passport office.]